Wellness
The January Wellness Survey with Shira Lenchewski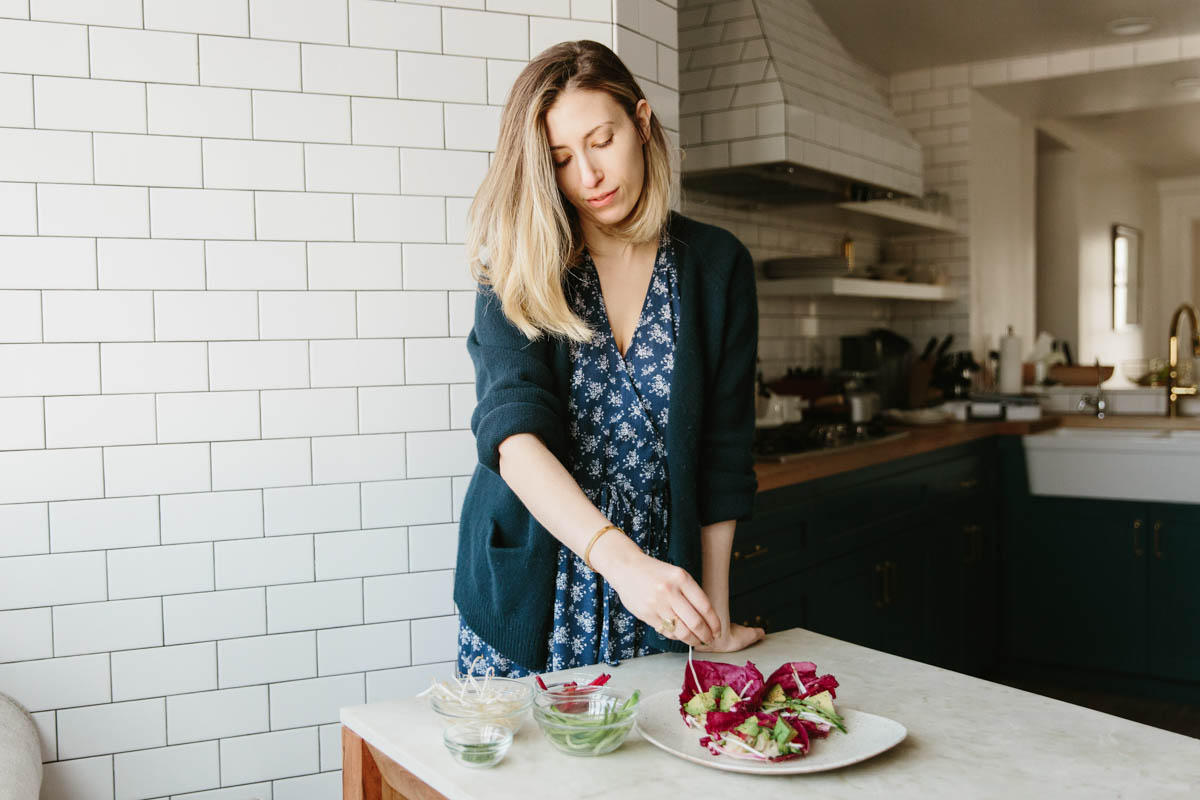 Self-care is always high on our priority list, and the start of a new year is the perfect reminder to focus on health in its totality. We think the best version of self-care is based around whatever tools you use to achieve a sense of balance—the definition of which is wholly up to you. We're so excited to introduce our January Wellness month as an opportunity to refresh your wellness practices. Each Friday for the month of January, we'll profile one of Jenni's favorite wellness experts who will share their best tips on living well. From the best natural beauty routine to the ancient roots of Ayurveda and the advent of modern herbalism, we're spotlighting women that embrace a holistic perspective on wellness, wholeness and health.
Shira Lenchewski, M.S., R.D., was the natural choice to begin our wellness series. Shira is a registered dietician, Goop's resident nutrition expert, and a close friend of Jenni's. No stranger to Rip & Tan, Shira has shared her delicious dosa wrap recipe, her secret to the perfect summer BBQ, and her endless knowledge on the science behind nutrition. She's been generous enough to share a glance into her daily routine and how she manages to do so much while taking care of herself and finding ways to feel her best. She was also kind enough to welcome us into her kitchen and share her recipe for her paleo radicchio cups here, which have been in heavy rotation in our kitchens. If you follow Shira's suggestions like we do, you can turn this snack into a light meal: just add hard boiled egg, salmon or chicken. Oh, and not only are these super delicious, but incredible for digestion, too.
We love Shira's approach to a balanced and healthy diet so much that we've already preordered her forthcoming book, The Food Therapist. Shira's book approaches food not as an isolated corner of health but a synergistic piece of total body wellness—one of the guiding principles of our wellness initiative. We think it's a must read for anyone trying to rethink their nutrition habits and embrace her approach to de-complicating their relationship with food. Read on to find more of Shira's tips on healthful eating and overall well-being in her Q&A below.
We're so excited to introduce you to Jenni's friends and mentors this month. Starting 2018 off by prioritizing the health of your mind and body will ensure a great year to come, because taking care of you is the first step. XXJKE
Rip & Tan: Describe your morning routine.
Shira Lenchewski: I like to leave an hour before I need to go anywhere to eat breakfast and decompress. Right now my breakfast of choice is 2 slices of paleo toast with ample ghee and pink salt and green tea.
Rip & Tan: How do you wind down in the evening? Describe your bedtime routine.
SL: Working out hard is a big stress reliever for me, so I'm a huge fan of foam rolling before bed to help keep my muscles from reaching Tin-Man status. It's funny, I've never quite gotten into a traditional meditation routine, but a couple of months ago I realized that when I'm foam rolling before bed I end up zoning out and fully relaxing for about 20 minutes, so it's a bit like my version of a meditation practice.
Rip & Tan: How do you introduce health and wellness in an approachable, attainable way to those who might be intimidated or overwhelmed? 
SL: The thing with wellness is it doesn't have to be all or nothing, in fact that never works, so I'm all about meeting people where they are. As long as they're motivated, we can break some ground. And that's what it's all about.
Rip & Tan: What is your favorite way to treat yourself?
SL: I love cupping and acupuncture. Or an extra hot bath with epsom salt.
Rip & Tan: How do you manage to quiet the din of over-stimulation? Do you have any tips on managing stress? 
SL: I make a seriously concerted effort to unplug fully when I eat, because I find that I enjoy the meal so much more and I'm more likely to be satisfied afterwards. Sometimes multitasking is inevitable, but it's something I try hard to honor.
Rip & Tan: Describe the place (mental or physical) where you can find peace away from the outside world.
SL: The ocean and the bath.
Rip & Tan: What is the most common wellness misconception you've come across in your career? 
SL: There's still a pretty widespread stigma that healthy food means rubbery, grilled skinless chicken breast and flaccid steamed veggies. That certainly can be true, but it doesn't have to be. My approach is rooted in the two most basic — yet often conflicting — functions of food: nourishment and pleasure. Many of the diets you see in the media favor nutrition at the cost of pleasure, and that's not something I can get behind. Because at the end of the day, I'm a big believer that enjoying delicious, flavorful food is part of a happy (and a healthy) life. To me, healthy food means delicious dishes made with whole foods, without excess added sugar. And the truth is, if you're using quality ingredients, you really don't have to do that much to the food to begin with (i.e. a little olive oil, sea salt and garlic, and you're good to go).
Rip & Tan: Do you have any daily mantras or words of wisdom you live by?
SL: Everything in moderation including moderation for food, but for life I'm really trying to embrace the phrase "to live is to let go constantly."